Amnesty International News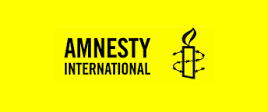 In 2014, St Mark's and All Saints becoming officially affiliated as a faith group with Amnesty International. Amnesty is an organisation originating in the 1960s that seeks to support, and if possible, agitate for freedom for prisoners of conscience around the globe.
February 2017 Update:-
Many thanks to all those who attended the Amnesty Coffee morning on 8th December at the Rectory. A small but dedicated team managed to send 42 cards of solidarity and support to political prisoners and other world citizens who had suffered or continue to suffer human rights abuses. This is a great result and we know from successful campaigns this year, that cards and letters do really make a difference to the lives of people who do not enjoy the freedoms and lifestyles that we do. In this month's parish magazine, I have written an article about a lady named Nazanin Zaghari-Ratcliffe; you may have heard her story on South Today but, if not, this is the situation and how you can help:
Many of you may of heard of a human rights issue that has been featured on South Today and also National News regarding the poignant situation of Nazanin Zaghari-Ratcliffe. Nazanine, a charity worker and British citizen, who was visiting family in Tehran last April when she was unexpectedly arrested at the airport as she attempted to fly home with her daughter, Gabriella, aged two. It was quite unclear what the charges against her were in the first instance, though she had been accused of leading a, "Foreign linked hostile network", at one stage. Initially her husband, Richard Ratcliffe, kept the matter quiet in the hope that this would encourage her release, but as the weeks went by, he decided to publicly campaign on her behalf and promote her story via world-wide media. Part of his decision was due also to the extended, painful, separation of Nazanine and himself from their young daughter who remains residing with her grandparents in Iran as her passport has been confiscated. Sadly, events took a more sinister turn last September when she was sentenced to five year's imprisonment in a secret court hearing. She is now incarcerated in Evin prison in Tehran, a place notorious for its cruelty, torture and executions. Ironically, the 800,000 named petition on her behalf worked against her in that it fuelled the anger of the authorities and the Judge, who refusing to state exactly what her crime was, chose to use the weight of opinion against her detainment as evidence of her guilt. Indeed, her professional role in training journalists and human rights activists has been interpreted as "A plot to undermine Iran's government," by a government intensely watchful of the western world's media.
The cruelty of separating a child from its parents is an issue that has embarrassed the authorities though. In a misguided attempt to control opinion, Nazanin was offered the alternatives in December of either having Gabriella be incarcerated with her or signing a declaration stating that she has not further rights over her own child. Both options were rejected though Nazanin remains desperately concerned over the wellbeing of her daughter, relaying her views thus:
I have been here so long. Do you understand what it is like to be a mother kept away from her child this long?
"I have missed over a fifth of her life. What does that do to her?"
To date there has been no further progress in this matter, though the Foreign Office have attempted to negotiate talks and Theresa May has personally raised the matter with Iran's president. Last week, there was an appeal hearing, again in secret in Tehran, though no further information has been forthcoming at all.
This case featured in the Amnesty International Write for Rights event that we hosted at St Mark's in December. This is where we send cards of support to people who are prisoners of conscience or who have been unjustly punished, injured, sometimes even killed around the world for purely political motives. In the latter case, the families of deceased victims receive the cards so that they feel supported and not forgotten as they campaign for justice. We managed to send 45 cards. If you would like to support Nazanin Zaghari-Ratcliffe and her family, we would gratefully welcome your prayers. If you feel you would like to write a letter to the authorities, then please do so to the address below:
Office of the Supreme Leader'
Ayatolleh-Sayed 'Ali Khamenei'
c/o His Excellency Hamid Baeidinejad
Embassy of the Islamic Republic of Iran
16 Prince's Gate,
London.
SW7 1PT.
Any letters should have a politic, encouraging tone; humbly urging for Nazanin to have regular contact with her family, an independent lawyer of her choosing and British Consular officials. Also for the authorities to consider quashing her conviction and releasing her with immediate effect.
With best wishes.
Laila Lock