St Mark's Church Hall
Bookings enquiries for this Hall to be made through Mr John Brown 01202 570564 or by email,
click here for an enquiry form.
Address:
250 New Rd, Ferndown
BH22 8EW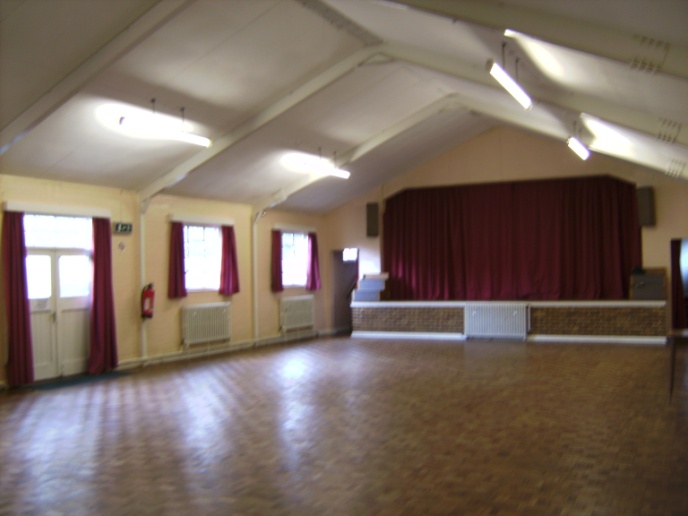 main hall and stage
The hall complex consists of the main hall, incorporating a stage complete with sound system, full gas central heating and a fully equipped kitchen (completely refurbished 2017) with serving hatch. Tables and chairs are stored in the annexe which houses storage cupboards for regular users and is accessed via sliding doors. The main entrance is via double doors into the foyer which houses male and female toilets plus a full width disabled toilet sufficient for wheelchair access including an alarm.
the small hall
The small hall is accessed via three steps (a ramp is available for wheelchair access) and has electric wall heaters. Children's tables and chairs are kept in here.

The whole site, church, hall and car park is a no smoking area and whilst such pastimes as Bridge are welcomed, gambling is not permitted. A comprehensive health and safety policy is in place. Fire extinguishers, gas and electric services are regularly inspected in compliance with legal requirements and guidelines. There is onsite parking, sufficient for 43 light vehicles, including 3 disabled parking bays.
The main hall and small hall may be hired at competitive rates from the Hall Bookings Manager - Mr. John Brown 01202 570564
Regular events in the Hall
Monday
Slimming World

(morning) - Mrs Sarah Jackson 07890 050372

Line Dancing

(evening) - Mr Roy Brooks 01202 522382

Beond Redemption (Band Practice)

(evenings Small Hall) - T Watson

Tuesday
Babes & Toddlers

(mornings term time) - Rector & Frank Sizer

Pear Tree Fellowship

(2nd Tue afternoon) - Mrs Kay Wilson 01202 870667

Carpet Bowls

(evenings) - Mrs J Stone 01202 868725

Blue Diamond (Band Practice)

(evenings Small Hall) - R Pearce

Wednesday
Ferndown South & West Parley Neighbourhood Watch (Occasional - Church Lounge)

- Mrs. G Schollar (sec) 01202 875457

Tap Dance Classes & Chasamba Fitness Class

(afternoon) - Mrs C Nicholas 07974940183

Shuko-Kai Ryu Karate

(evening)

.

- Mr S Tompkins 01202 376495

Thursday
Dru-Yoga

(morning) - Mrs. C. McLaughlin 01202 777622

Wessex Accordion Band

(afternoon

) - Mr. D. Luffingham 01258 473254

Slimming World

(evening) - Miss Karen Fripp 07795 820310

Friday
Toddler Sense

(morning) - Mrs N Dutt 07771 825159
Saturday
Art Class

(morning) - Aldo Galli 02380 336784

Tai-Chi Assn.

(morning) - Mr. M. Young 07710 141771

R & L Sequence Dance

(evening 2nd & 4th Sat.) - Mrs. L Boaden 01202 578190