Operation Shoebox Appeal
Samaritan's Purse Christmas Shoebox Appeal 2017
Who can forget the 1990 TV news broadcast of abandoned children in Romanian orphanages?
One man could not, Dave Cooke a father of four from Wrexham, North Wales raised £60, 000 from local people, establishing Operation Christmas Child (OCC) charity and on December 12 1990 a convoy of vehicles with 17 volunteers set off for Romania with aid including gift filled shoeboxes. In the early 1990s Mothers Union guided by Secretary Joan Waugh and Parley First School took on the challenge in West Parley based at St Mark's Church. This UK born charity initially spread by celebrity endorsement, Michael Jackson and Donny Osmond among them.

In 1992 Songs of Praise on BBC1 broadcast a live link from Wrexham to the OCC convoy team in Romania and Newsround also did a special feature ensuring wide coverage. By 1995 an opportunity arose to internationalise the appeal when OCC merged with Samaritan's Purse expanding to Canada, United States and Europe. In 2010 Mothers Union was addressed by Eileen Ivermee and her husband sharing their worldwide experience of deprived areas giving renewed impetus to the appeal. MU worked hard to raise the profile of OCC including group sponsored shoeboxes which contributed to the appeal reaching one million shoeboxes sent from the UK in 2001 and every year since.

In later years with the withdrawal of Parley First School and closure of Mothers Union in West Parley the leadership transferred from Joan Waugh to Marjorie Hyatt, becoming Parish Organiser four years ago. This year the parish was joined by Ferndown Inner Wheel organised by Secretary Jenny Lewis and 75 shoeboxes were dispatched. Contributing members are of one voice in this endeavour, how much they value the opportunity to bring hope to some of the most deprived children in the world. The shoeboxes were gathered in at St Mark's on All Saints Sunday and the Rev. Sheila Thomas expressed this hope in the sermon. The Rector, Rev. Charles Booth raised this awareness to the congregation in prayers and a blessing for the children receiving the shoeboxes. The spirit and vision of Dave Cooke still engages with the people of West Parley, with whom its success lies ensuring that the Christmas Shoebox Appeal continues to flourish.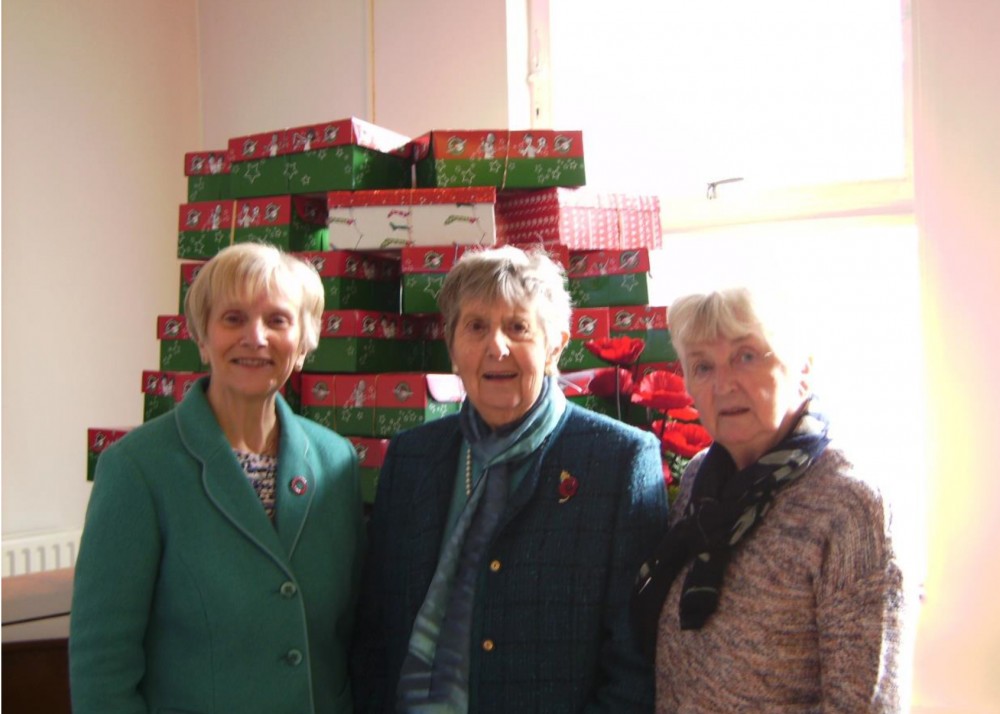 Marjorie Hyatt Barbara Bailey Jenny Lewis
Parish Organiser MU Member Inner Wheel Secretary